Whisler's Well Drilling currently staffs around 15 employees in a business that continues to grow as we diversify. With new construction technology and continually changing customer needs, we are constantly changing with them. We have had the flexibility to stay in business even in the most competitive markets by adding services as the need for them arises. Starting as residential and agricultural water well driller, we have continued changing with our customer's needs.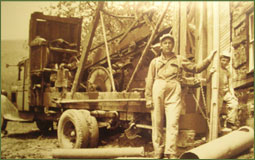 Passing the trade onto the next generation.
As fuel prices continue to rise, Whislers saw the potential for energy saving geothermal heating and cooling years ahead of our competition. Now offering complete geothermal installation from the well to the air coming from your register, we can compare you're your existing heat supply to a new geothermal system and show you the projected savings, in most cases actually paying you back the entire cost of the system. Please visit our more detailed site at
www.whislershvac.com
for more information.
Mailing Address:
366-1 Greenspring Road
Newville, PA 17241